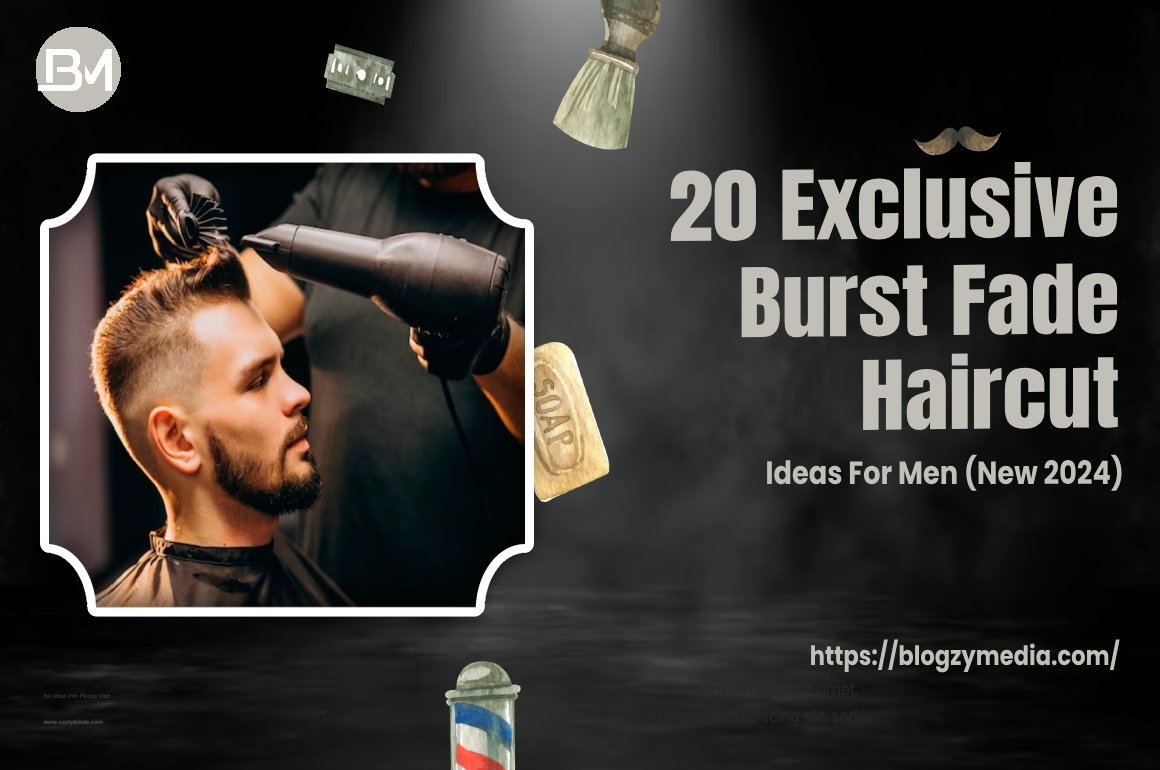 20 Exclusive Burst Fade Haircut Ideas For Men (New 2024)
Introduction
It's time to unveil the trendy look of the most timeless haircut, i.e. burst fade. It's a hairstyle that has evolved more than 100 times and contains the most controversial angle concerning its origins. This excitingly smart yet edgy style has graced men's heads since the 1950s. 
In this article, we present 20 stylish burst hairstyle ideas for men. This trend is set to take over the hair industry in 2024. Whether you're looking to update your style or try something entirely new, this style is guaranteed to make a statement.
From elegant and stylish to bold and trendy, there's a fade haircut for everyone. Join us as we explore these exclusive haircut ideas that will inspire your next barber trip. Keep reading.
Types of Burst Fade
Although this haircut has many variations, it is broadly divided into three categories, as defined below.
1. Low Burst Fade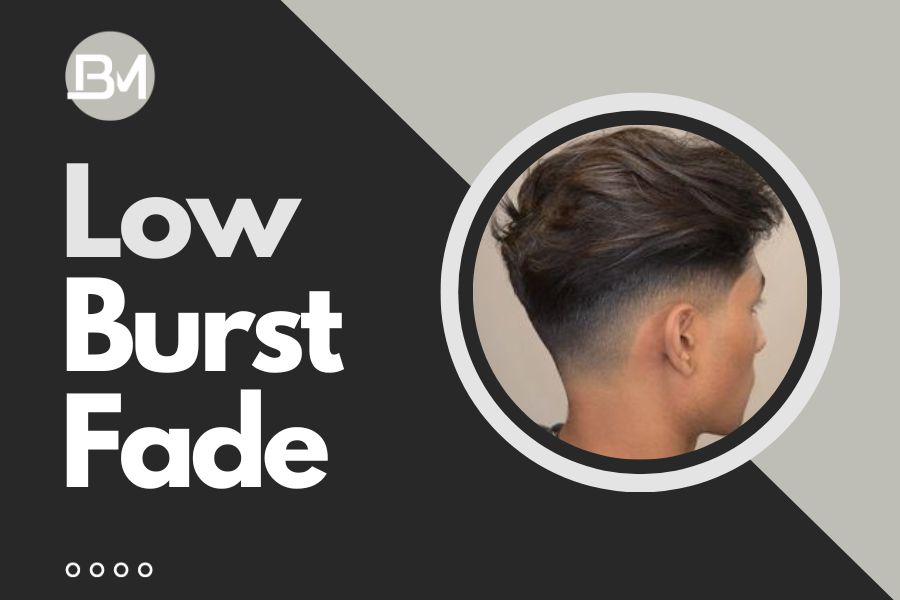 As the name implies, low burst fade design haircut is defined by a gradual fade that starts low on the sides and back of the head. The long hair on top flows smoothly into the shorter hair on the sides. Here, the fade generally begins near the ears and tapers down to the skin. The burst effect is achieved by creating a round shape around the ears. Styling this haircut is pretty easy, as the top hair can be styled using wax, pomade, or gel.
2. Mid-Burst Fade
It creates a burst at the midpoint and contains a variety of sub-categories worth styling. It is up to you how long you want the fade to last. Some individuals opt for a shorter, more dramatic fade, while others prefer a longer, more subtle transition. Maintaining this style is easy, as it is high enough to show balance on both sides. It also allows for versatile styling, as you can keep it longer or shorter based on your preference.
3. High Burst Haircut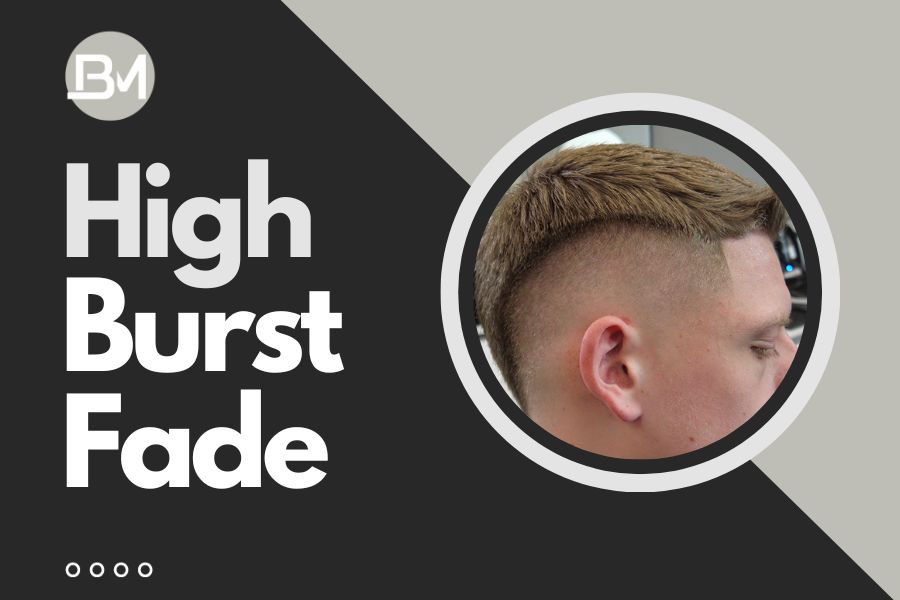 In this style, the hair on the back and sides gradually fades from long at the top to shorter hair at the bottom. Despite its sophisticated look, it's also a low-maintenance haircut. This style offers various possibilities for customization and personalization. You can do a textured top, slicked-back, quiff, side part, undercut, tapered neckline, razor design, etc. 
20 Burst Fade Haircut Ideas
1. Burst Fade Mullet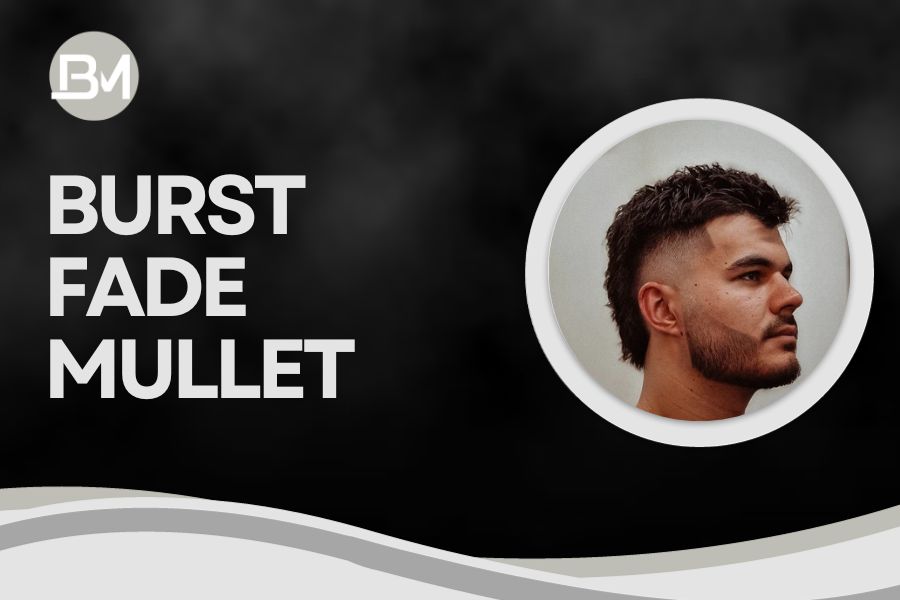 Burst Fade Mullet is a popular hairstyle during the 90s that is characterized by short or faded hair at the sides and front. This is done while leaving long hair at the back and shorter hair at the top. It adapts to various styles and lengths. Discover a drop fade with a mullet for a classy look. It can be achieved by tapering the sides along your ears and making it stand out with a contemporary edge. Overall, this hairstyle is a contemporary twist on the traditional mullet. Its sharp transition sets it apart from other haircuts.
2. Burst Fade Mohawk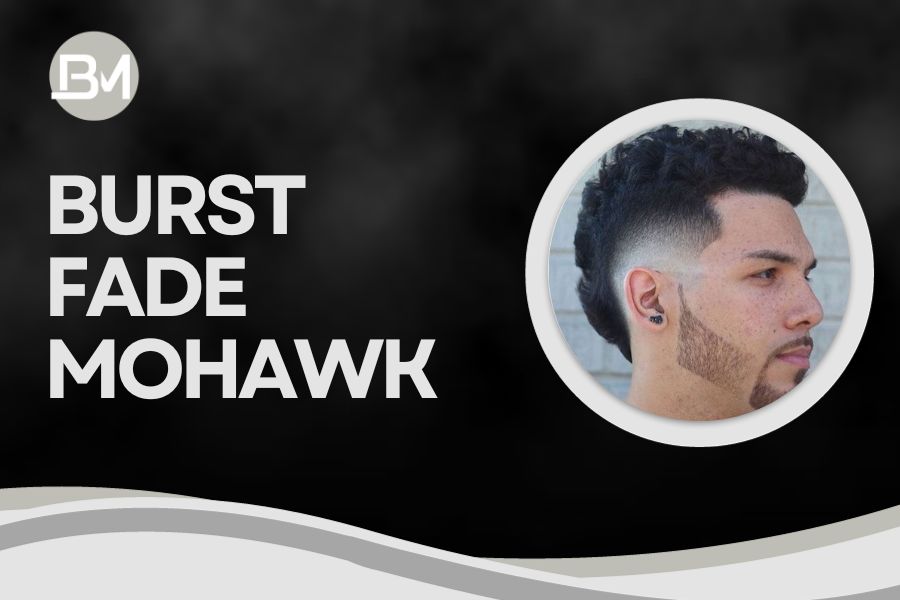 Mohawk or Mohican hairstyle is a strip of hair running down from the top of the head. It is generally associated with punk or alternative cultures. The central strip of the mohawk is longer and can be styled in different ways. Leave it upright, spike it, or style it as you prefer. However, it's a high-maintenance style and may require regular barber visits to maintain its clean lines. Overall, it offers you a bold and confident look tailored to your individual preferences. 
3. Burst Fade Curly Hair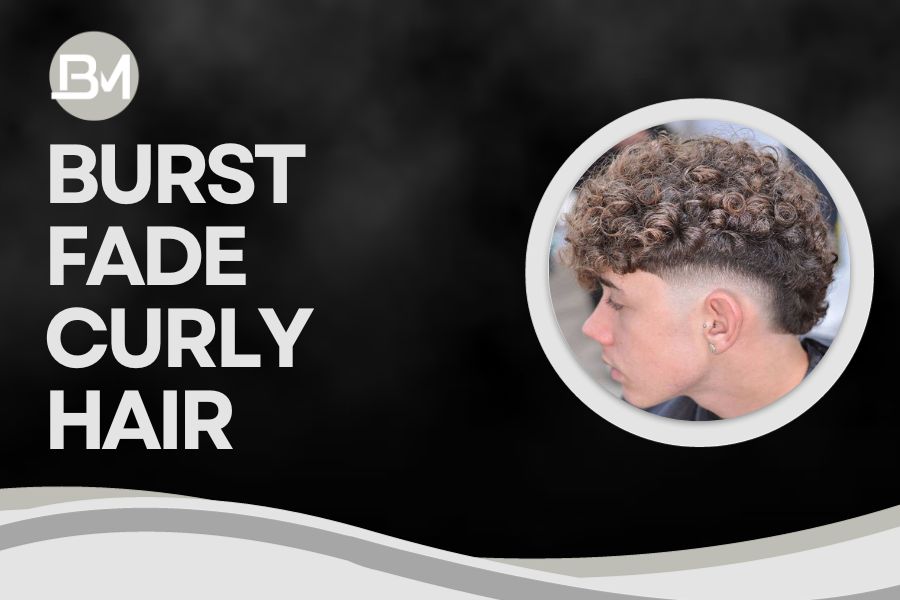 Going with a breezy fade is a perfect idea to add contrast to and enhance your natural curls. It also makes styling easier for curly guys. An unmistakable feature of this hairstyle is the slight taper on the sides and back. This creates a well-defined, contrasting look for your curls. Make it your own by customizing it. Also, it's a popular choice among men who want a contemporary hairstyle that showcases their natural curls while maintaining a groomed appearance.
4. Burst Taper Fade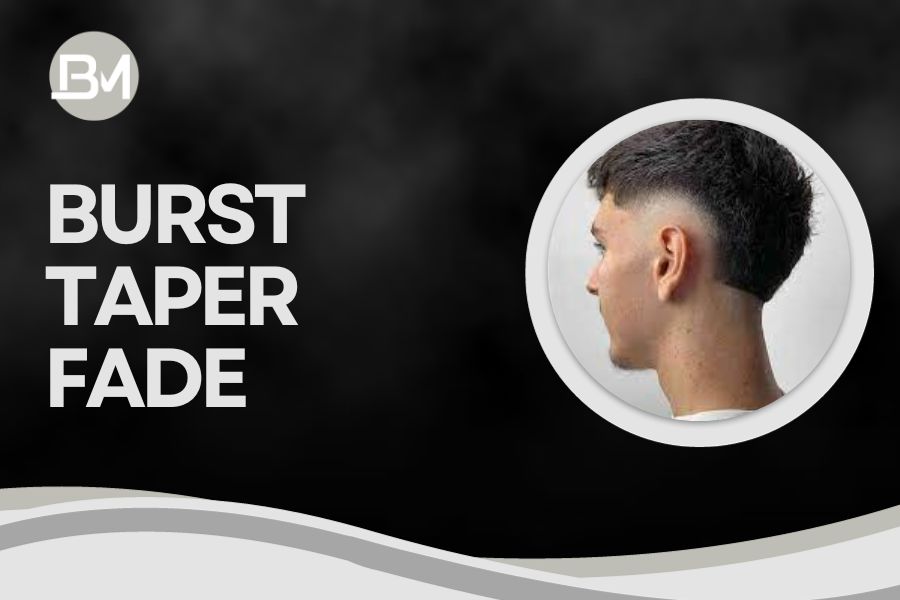 According to your geographical location, it can have a variety of connotations. Additionally, it is known as Brooklyn fade, Temple fade, and blowout fade. In simple terms, a taper fade shaped like a semicircle at the temples is defined as a burst taper shade. You can recognize a taper fade when the fade is only evident at the nape of the neck and in the temple area. For the burst effect, choose its intensity based on your personal preferences.
5. Burst Straight Hairstyle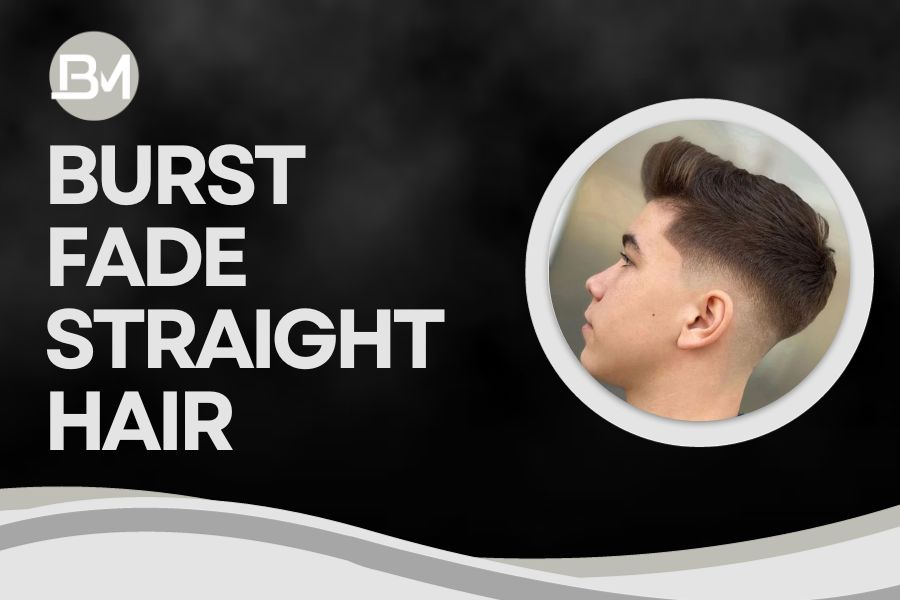 Whether you have wavy hair or smooth hair, the burst look can be achieved regardless of hair type. To style your hair into a drop haircut, you just need to remember the gist of how it works. Create a tapered and clean look by cutting the sides and back of the head short. The hair is often cut very short near the ears and neckline, gradually growing as it moves upward. You can add a line-up to this hairstyle and shape sharp edges along the hairline and facial hair, if present.
6. Clean Burst Fade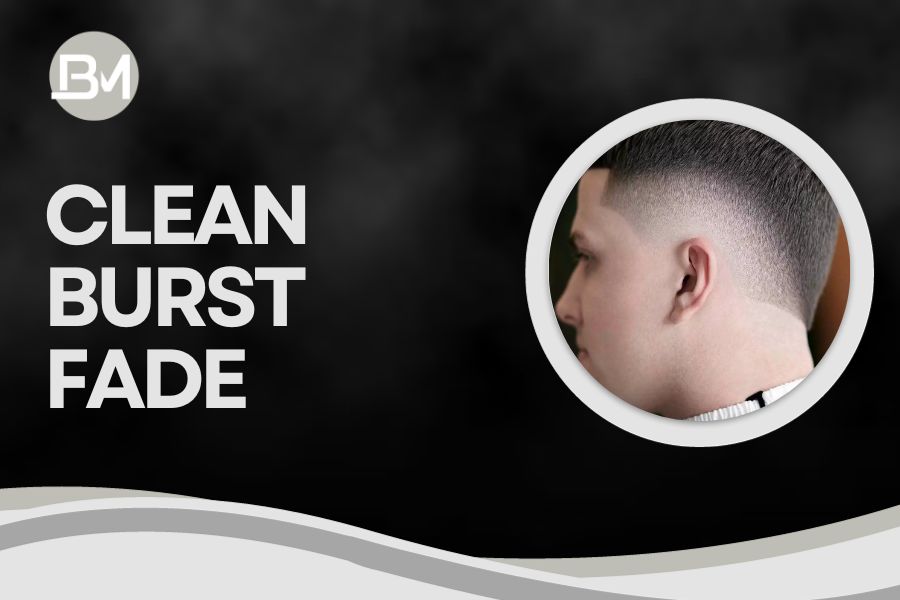 By clean, we mean an expertly designed burst haircut. And lots of factors go into achieving a clean-cut burst fade. Considering certain things, such as choosing the right barber who asks you many questions before giving you a cut, considering your face shape, and aligning them with your personal preferences can enhance your attractive looks. This haircut complements various shapes, but especially oval, square, and diamond-shaped faces. Note that straight lines and sharp angles are hallmarks of this haircut.
7. Burst fade design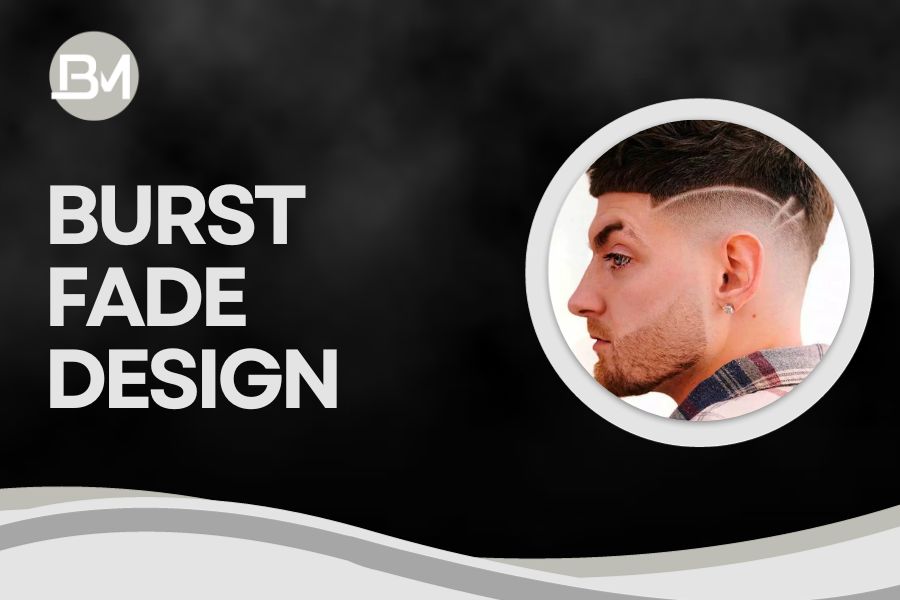 The game changes when adding design to your classic burst fade haircut. You can experiment with various design fades, such as V design, freestyle designs, braided designs, mullet design, back design, line design, Edgar design, design on the sides, W design, Asian designs, etc. Skilled barbers use clippers and specialized tools to etch intricate patterns, shapes, or symbols into the discolored area. When opting for a faded design, ensure that the design complements your overall look.
8. Burst Fade Buzz Cut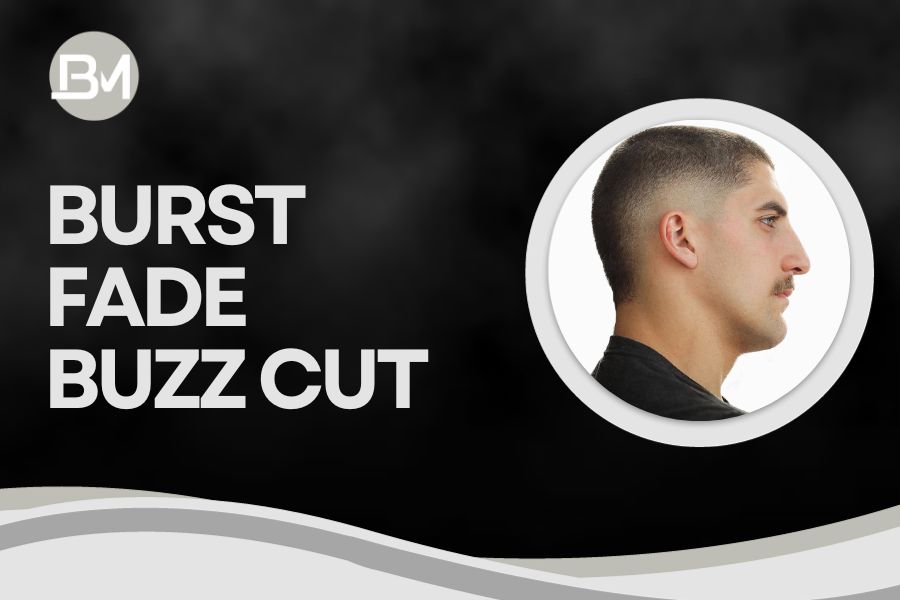 With this haircut on the back and the sides of the head, this hairstyle combines the clean, short length of a buzz cut with the distinctive burst fade elements. The result is a distinctive and eye-catching appearance. It also comes in many variations, such as a faded buzz with a V hairline, etc. Regarding the length of the buzz-cut hairs on top, it can vary based on your personal preference, although they are quite short, ranging from #1 to #4 clipper guard length.
9. High Burst Fade V Cut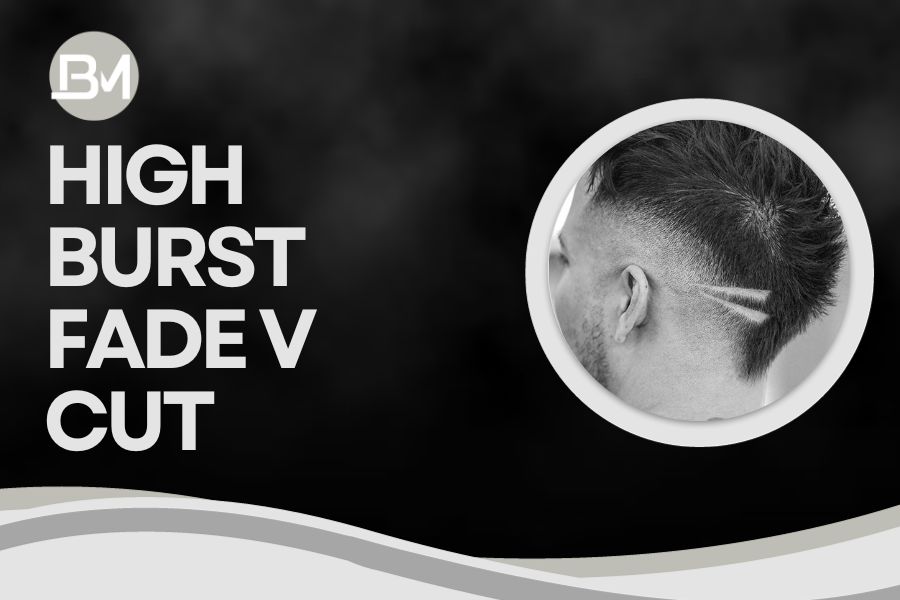 This style combines a V-shaped hairline at the nape of the neck with a burst fade. It offers a distinctive look with edginess to your overall appearance. Instead of the traditional squared or tapered neckline, this haircut incorporates a distinct V-shape that points downward. This hairstyle is generally low-maintenance. While you can apply styling products to the hair on top for added texture or hold, it doesn't require much daily upkeep.
10. Edgar Burst Fade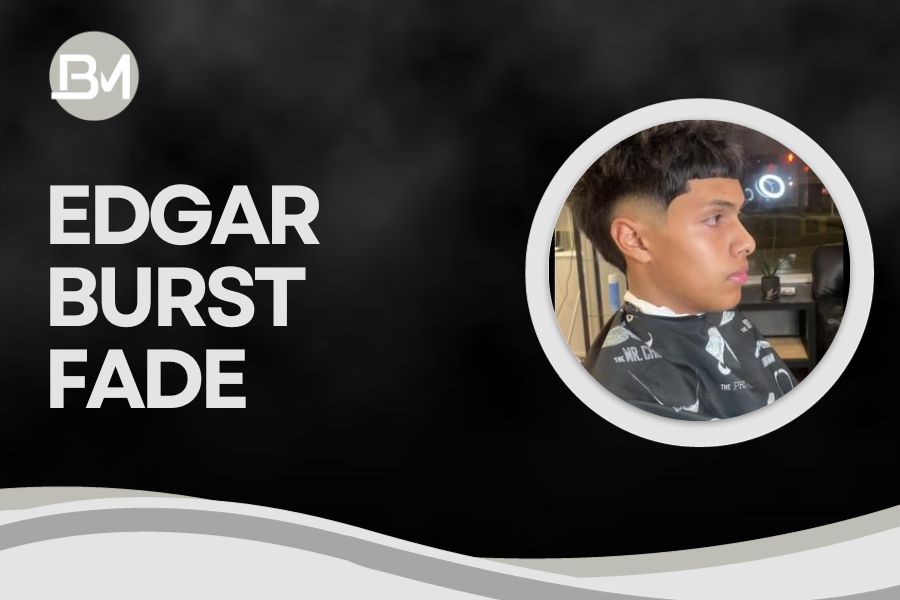 It is a popular hairstyle in states near the U.S.-Mexico border, including Arizona, California, Texas, and New Mexico. The Edgar cut is generally a bowl-like cut with tapered and lined-up sides. This hairstyle offers flexibility regarding how bold or subtle you want the disconnected lines to be. Moreover, you can customize its intensity and shape. This Edgar style became viral when a young fan of Major League Baseball player Edgar Martínez asked his barber to cut and shape Edgar's design on the back of his head.
11. Burst Fade Faux Hawk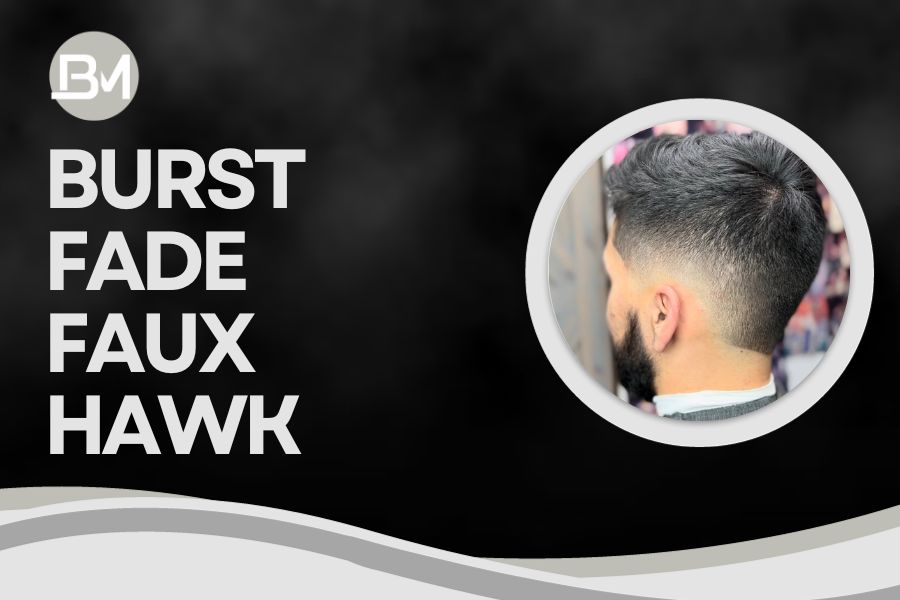 Desiring a rockstar look? There might be nothing better than getting a faux hawk haircut. It mimics the look of a traditional mohawk but without shaving the sides of your head. Instead, the sides are usually shorter, and the middle hairs are styled to create a spikey, raised, or pointed appearance. On the flip side, when you combine faux hawk with drop fade, it features a short, faded look on the sides of your head. It also features a central hair strip that's long and shaped like a faux hawk.
12. Messy Burst Fade Haircut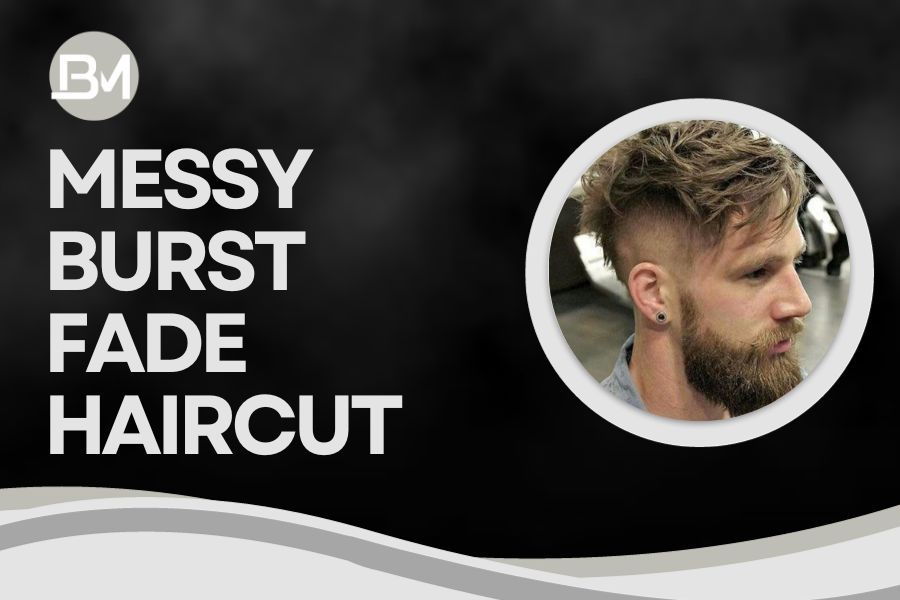 Any hairstyle can benefit from a messy look if it is kept separated and in pieces. Added several other factors, such as letting it loose, not following any rules, and using the right products, can contribute towards a messy, unorganized haircut. With short, faded sides and back and a longer, messy top, this cut has a laid-back, contemporary vibe. This hairstyle is not meant to be sleek and perfectly groomed; instead, it should be effortless and relaxed.
13. Burst Fade Qiff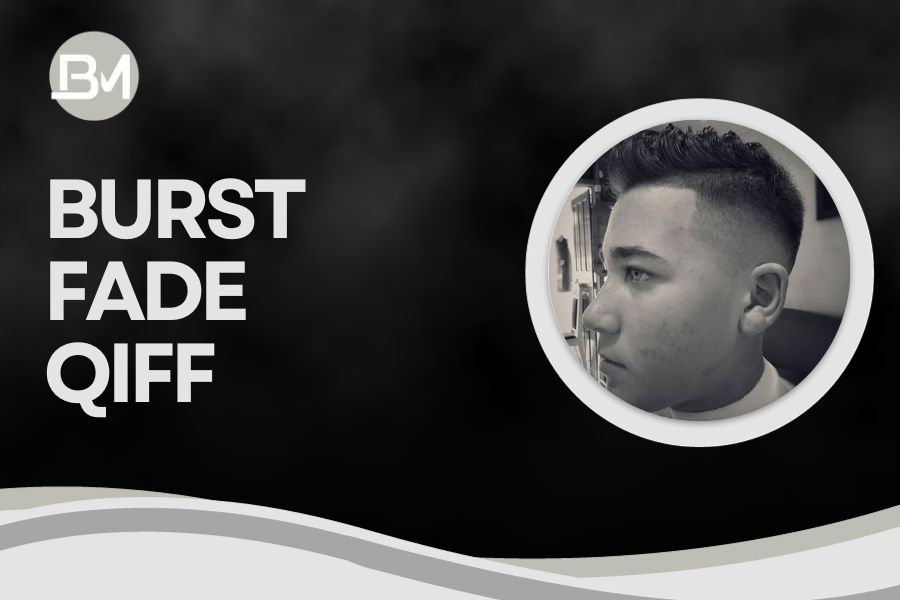 A quiff is a hairstyle where the hair on the top of the head is brushed upward and styled into a voluminous, wavy, or slightly raised shape. It often has a lifted and textured appearance. This style, when combined with a burst fade, will give a versatile and fashionable look that offers a striking contrast between the neatly faded sides and the textured, lifted quiff on top, making it a popular choice for a contemporary vibe. The top part of the hair is left more long in this style. It ranges anywhere from 2 to 4 inches in length, based on your personal preferences.
14. Comb Over Burst Fade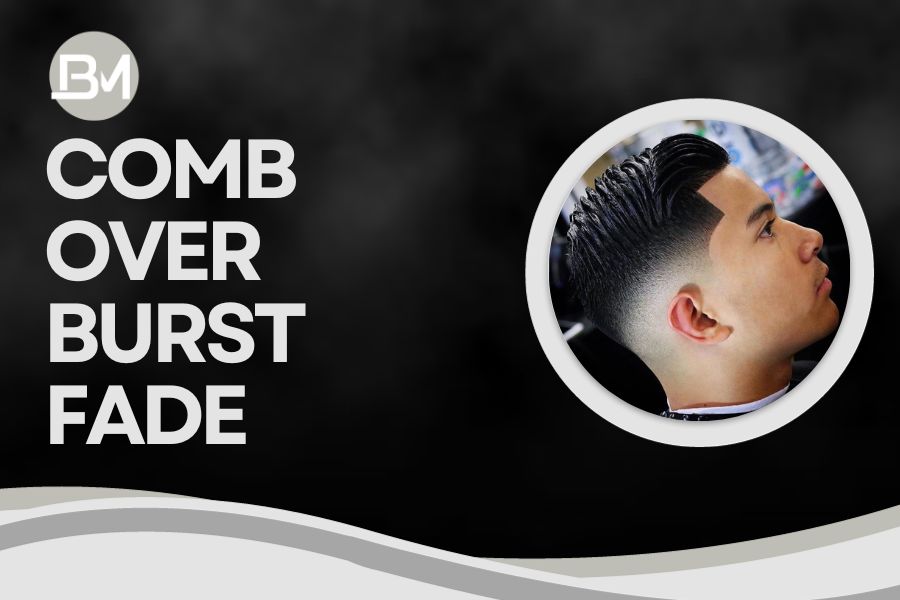 In the case of a comb-over haircut, the hair on top is usually long and styled comb-over. For the burst effect, it features a stylish and clean look on top with long, combed hair. In contrast, the sides and back have a dramatic drop fade effect. Comb-overs are given a modern twist with this striking contrast. You can customize this haircut to be low, mid, or high, based on your personal preference. It's often paired with a well-defined parting for added style.
15. Burst Fade Pompadour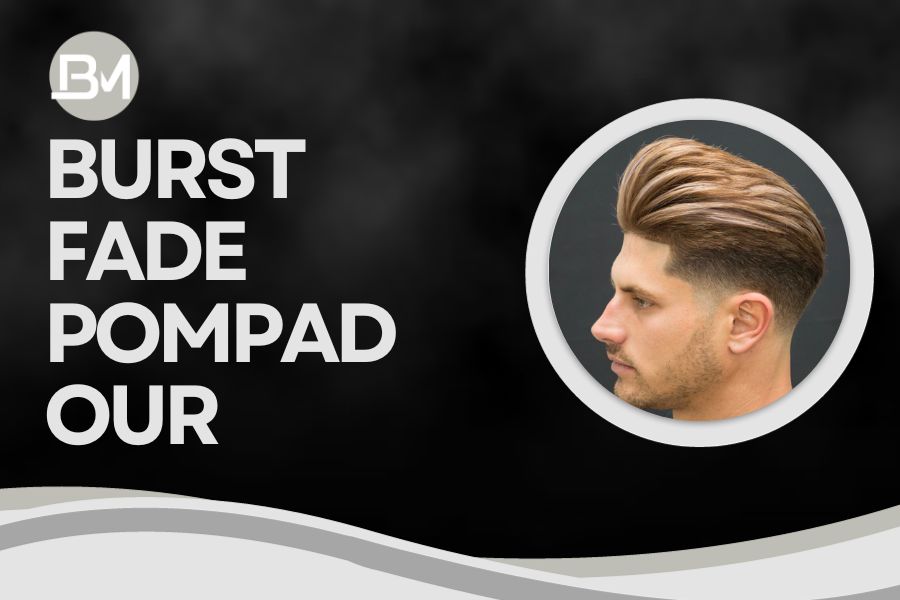 Pompadours look best on round or oval face shapes. This is a classic men's hairstyle characterized by the hair being swept up and back from the forehead, creating a voluminous, raised look. A bold, attention-grabbing, and versatile haircut that suits men of all hair lengths, from short to long. You will find a ton of variations of faded pompadour. These include razor faded pompadour, modern pompadour fade, messy pomp, low fade pompadour, pompadour comb over fade, drop fade pomp, pomp for wavy hair, etc.
16. Braided Burst Fade Long Hair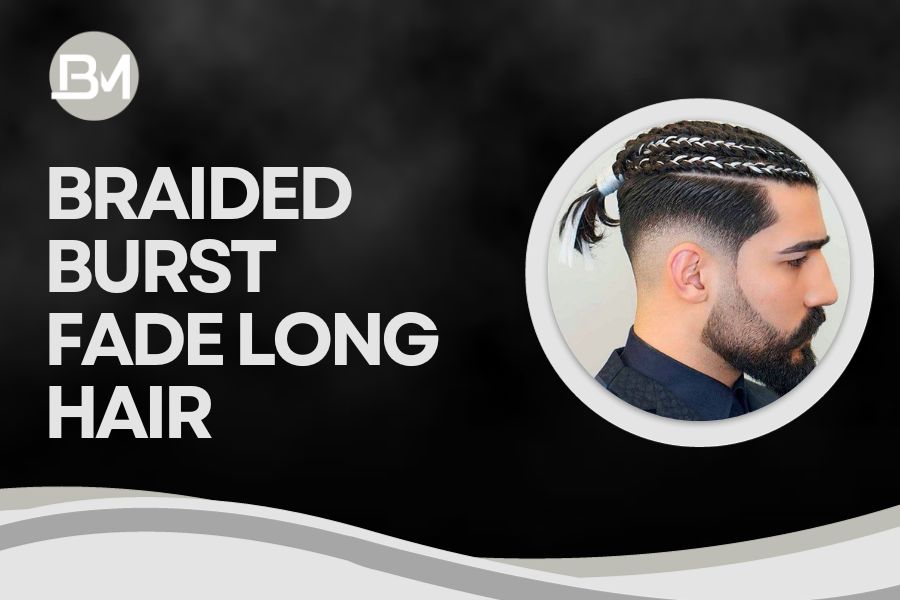 The angled braided fade for long hair is a distinctive and trendy haircut. It combines the drop cut's dramatic contrast with the unique texture and style of long layered hair on top. It allows for individuality in braid patterns and overall appearance, making it a versatile choice for an eye-catching hairstyle. You can go for box braids with fades, which resemble a tapered fade on the sides with messy ponytail plates on top. Another option is two thin Dutch braids with fades on the sides. Braided dreads with fades are also worth considering.
17. Blowout Burst Fade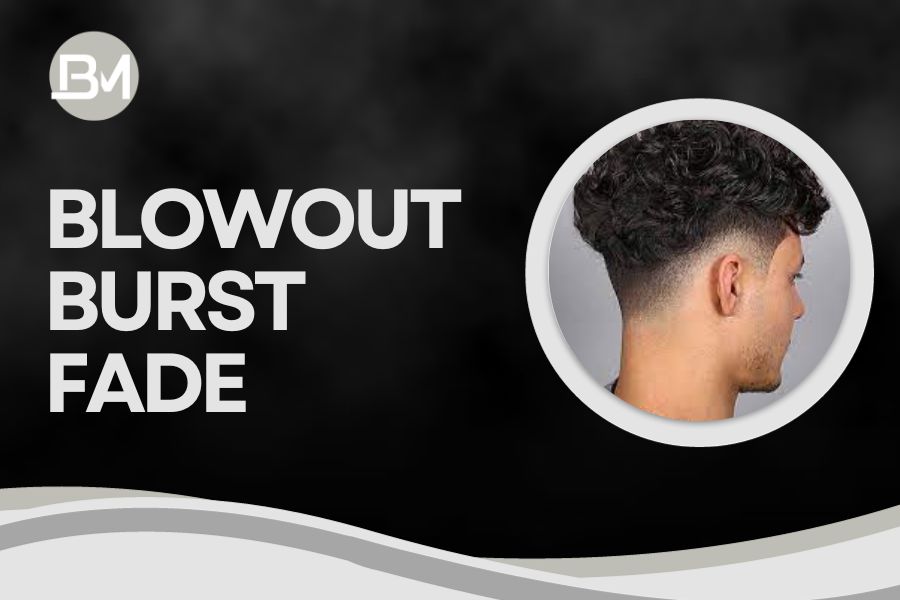 Blowout hairstyles are high-volume, textured, and textured. You can achieve this style using a blow dryer and a brush to lift the hair away from the scalp. The movement and volume are created this way. This haircut adds definition to the back and sides of the head, and the blowout styling on top creates balance and symmetry. However, this style requires regular cleaning and maintenance to keep it looking sharp. You can also use daily styling products with the right products.
18. Drop Burst Fade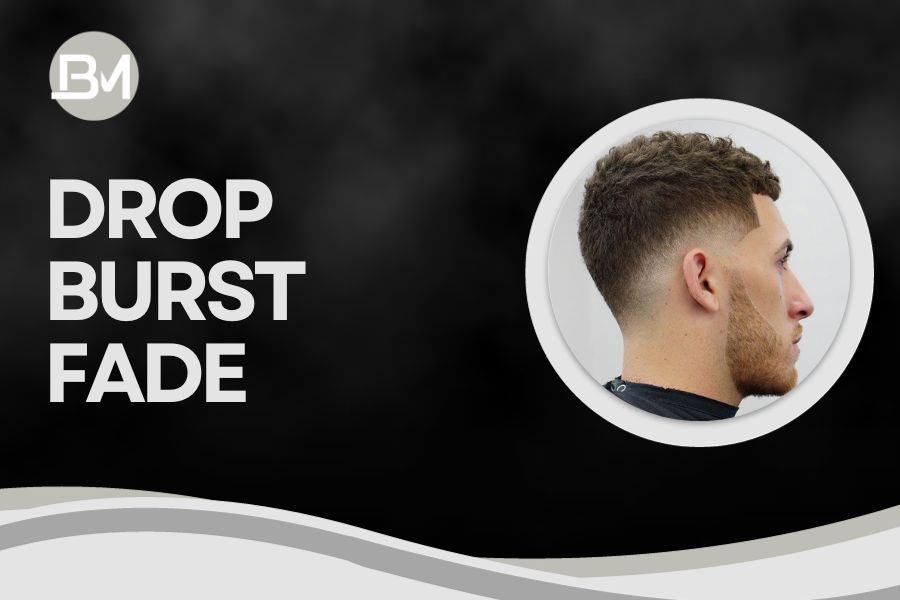 Drop-faded hairstyles have a low taper that follows the hairline around. However, burst transitions can sometimes be confused with drop transitions. It's quite similar, but the long top section drops or dips down at the back but doesn't touch the neckline in the drop trend. On the flip side, the long section touches or drops down to the neckline in the drop fade cut. It complements a range of face shapes. However, you should consult with your barber to determine the appropriate variations and lengths to flatter your face shape.
19. Burst Fade With Braids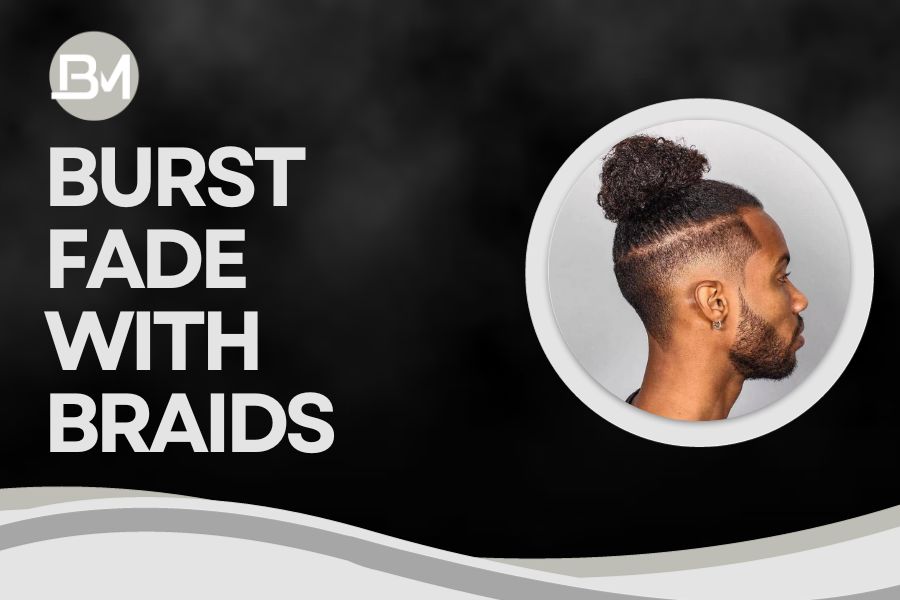 With regards to braids on top, they vary in style and design. Some people opt for classic cornrows, while others prefer more intricate or creative braiding patterns. To add a more polished and refined look to the burst cut with braids, you can opt for a tapered variation. This is where the sides and back are faded with a clean, sharp taper. Choose the type of braids or twists that suit your style, and you can adjust the fade's height and tightness as per your preferences.
20. Mid-Burst Fade Short Quiff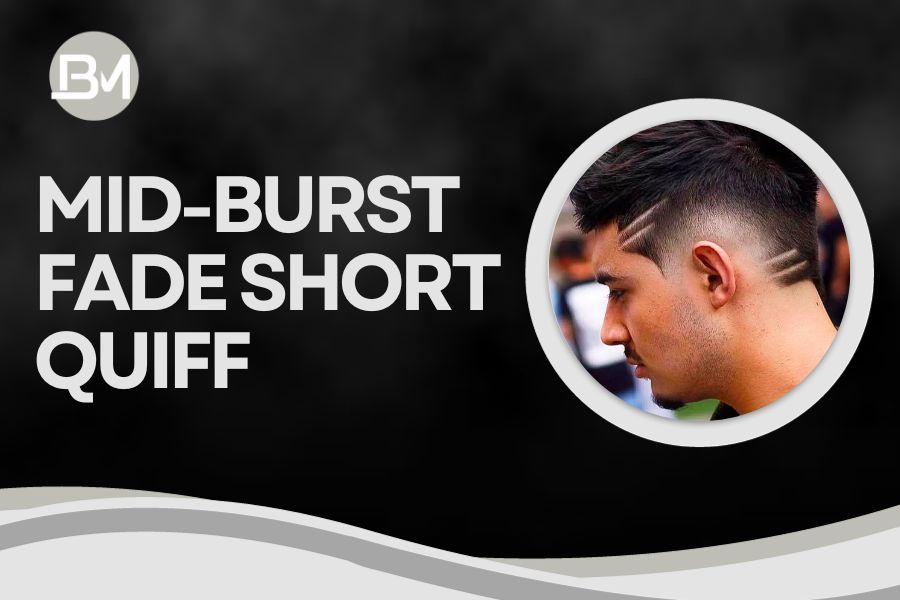 The mid fade begins in the middle of the sides and back of the head. It generally starts around the temples and extends down to ear level. In the mid fade short quiff, the quiff is kept short, adding texture and style to the top of the head. Like all faded haircuts, it also requires regular maintenance to keep it clean and well-defined. You can use various hair products to add volume and hold, achieving different looks. You can style it neatly or messy.
Preparing for a burst fade
Follow these step-by-step instructions:
Step 1: Choose a professional barber.
Fade haircuts are best done by an experienced and skilled barber. Make sure the place is good by asking your friends or reading online reviews.
Step 2: Research and Select a Burst Fade Style
Choose your burst hair style. There are various options, including high burst shade, low burst shade, and skin burst fade. You can also choose the length and design of your hair's top part.
Step 3: Gather Reference Images
It's helpful to gather reference images or pictures of the burst style you want. Having a clear idea of your preferences will make your barber's job easier.
Step 4: Schedule an appointment.
Call the barber shop or book an appointment online with your chosen barber. Ensure that you schedule enough time for the haircut, as fade haircuts can be quite detailed.
Step 5: Wash Your Hair
Prior to your appointment, shampoo your hair thoroughly to be sure it's clean and free of hair products. Clean hair is simpler to work with and resulting in a more attractive haircut.
Step 6: Discuss Your Preferences
When you arrive at the barber shop, discuss your desired haircut style. Show them the reference images and explain any specific details or modifications you want.
Step 7: Start the Fade
The barber will use clippers to start the fading process on the sides and back of your head. The fade should be gradual, with the hair getting shorter as it moves down from the top.
Step 8: Finish and Style
Once the burst fade is complete, your barber will style the top part of your hair as per your preferences. They may apply styling products or use styling tools to achieve the desired look.
Step 9: Maintenance Tips
Ask your barber for advice on maintaining the fade you're getting at home, including product recommendations, styling techniques, and when to schedule your next haircut.
Burst and fade maintenance
Here are some unique maintenance tips to maintain your burst fade:
Avoid washing your hair regularly, since it can strip away natural oils.

Don't wash your hair too frequently, as it can strip away natural oils and cause dryness. Make sure you follow a schedule that suits your hair type.

Keep your scalp hydrated with a good-quality moisturizer or hair oil. Dry or flaky skin can detract from your faded appearance.

You should use hair accessories that match the type and style of your hair. This could include pomades, gels, or hair waxes for styling and sulfate-free shampoos and conditioners.

It all starts from within. You can keep your hair healthy and strong by staying hydrated and eating a balanced diet rich in nutrients such as biotin, vitamin E, and protein.

A small comb or brush can be handy for on-the-go touch-ups. Use it to smooth down the top part of your hair and keep it looking neat.
Burst fade Dos and Don'ts
Do's:
Choose a Skilled Barber: Seek out a professional barber who specializes in fade haircuts, especially burst haircut. A skilled barber can make a significant difference in your haircut quality.
Communicate Clearly: Communicate

your preferences clearly with your barber. Show them reference images and be specific about the burst fade style, length, and any additional details you want.
Regular Maintenance:

Your barber will maintain your fade to keep it looking sharp and well-defined.
Use Quality Hair Products:

Invest in good-quality hair products that suit your hair type and styling needs. This includes pomades, gels, and hair waxes for styling, as well as quality shampoos and conditioners.
Moisturize Your Scalp:

Keep your scalp hydrated with moisturizers or hair oils to prevent dryness and flakiness.
Protect Your Hair from Sun Damage:

Long-term sun exposure can fade your hair's color and dry it out.
Maintain a Balanced Diet:

Ensure a healthy diet rich in necessary nutrients like biotin, vitamin E, and protein to promote healthy hair.
Don'ts:
Don't Do It Yourself: Don't attempt this type of haircut alone unless you have the necessary barbering skills. Please leave it to professionals to achieve the most effective results.
Avoid Inexperienced Barbers:

Don't entrust the fade to an inexperienced or unskilled barber. Make sure you wash your hair on a schedule that works for you.
Don't Overwash Your Hair:

Avoid overwashing your hair, as it strips natural oils and dry it. Stick to a washing schedule that suits your hair type.
Avoid excessive heat styling:

You should refrain from using excessive heat on your hair when styling it with hair dryers, straighteners, and curling irons.
Don't Neglect Trims:

Don't neglect regular trims for the top part of the fade as a rule. Trimming helps maintain shape and length, so visit your barber as needed.
FAQs
Q.1 How does a burst fade differ from other fade haircuts?
It differ from other fade haircuts due to their burst effect around the ears.
Q.2 How does this haircut look on different face shapes?
This is an ideal style for round, heart, or square-shaped faces. However, you should consult your barber and customize the haircut as per your style preferences. 
Q.3 Can I add color or accessories to my drop fade?
Yes, you can add colored braids to braided fade haircuts.
Q.4 How long do burst fades last?
The duration of this haircut can vary from person to person. It depends on several factors, such as hair growth rate, maintenance, length of hair on top, the barber's skills, etc. In general, a fresh haircut lasts about 3 days before hair grows.
Conclusion
In conclusion, the burst fade haircut goes beyond being a mere hairstyle; it's an expression of both style and self-assuredness. With its various types, from the high fade to the low fade, it offers versatility to suit your unique preferences.
To maintain this fresh look, regular trims, quality hair products, and proper care are essential. Don't hesitate to consult with your barber for personalized advice. With the right knowledge and commitment, you can effortlessly rock the burst, fade and exude an air of sophistication and flair in your everyday life.