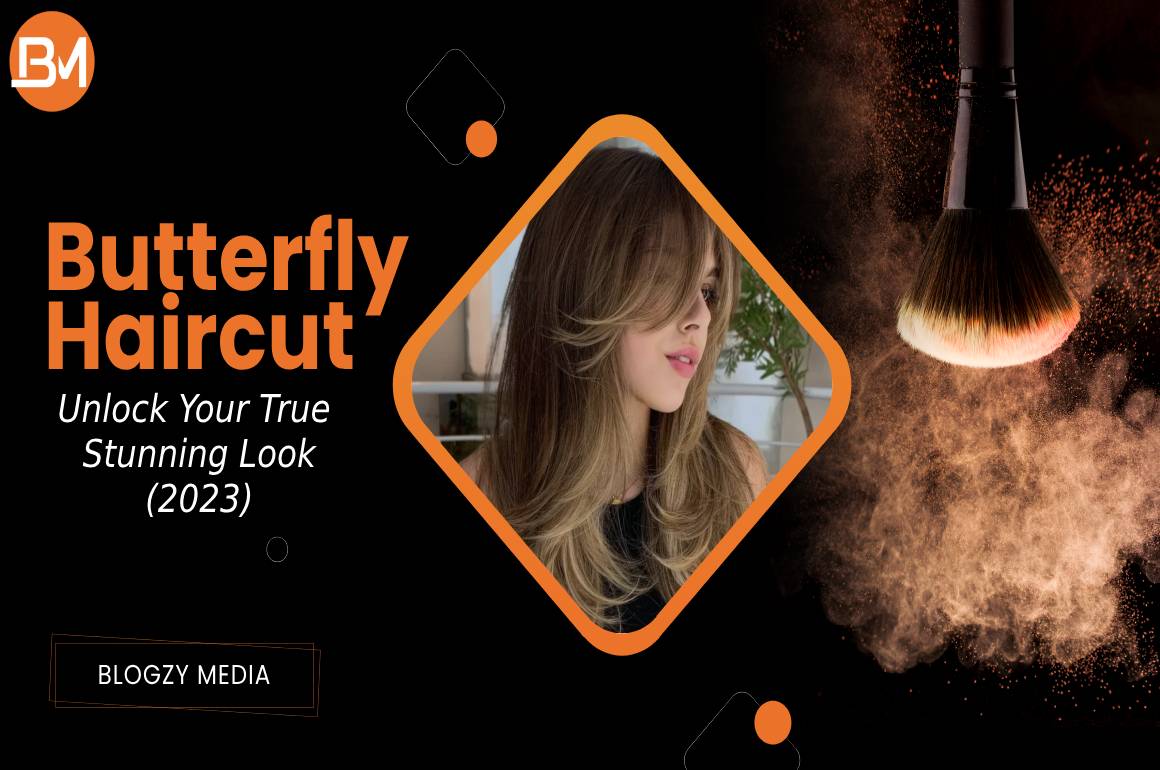 Butterfly Haircut: Unlock Your True Stunning Look (2023)
Introduction
As the name signifies, a butterfly haircut resembles a wing-like butterfly effect. It is one of the versatile hairstyles that adds movement and dimension to various hair types. 
Butterfly layers haircut is more than just a hairstyle; it embodies empowerment and self-expression. In a world that constantly seeks new avenues for creativity, individuals are embracing this captivating cut to showcase their inner beauty, courage to stand out, and unyielding confidence.
The best plus about this hairstyle is that you can quickly adapt it to different face shapes as well as hair types whether it be curly, straight, or wavy hairs. 
Drawing inspiration from bygone eras, particularly the shag haircut of the vibrant '70s and the voluminous '90s blowout, this enchanting hairdo takes on a captivating form.
Abounding with delicate, cascading layers that gracefully cascade away from the visage, the butterfly haircut stands in stark contrast to the convention of inward-facing layers.
Popular Variations of the Butterfly Layers Haircut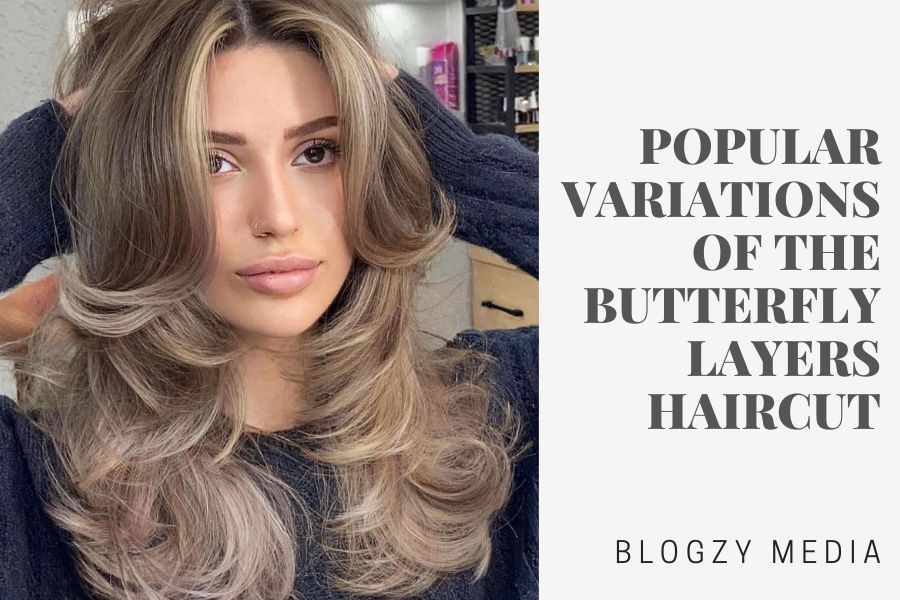 Let's look at some of the famous inspirations of butterfly layers haircut below!
#1 Butterfly Haircut Short
Yes, it's still possible to have this cut on shoulder-length hair. Experiment with versatile styling options: sweep it back for a refined and polished look, tousle it playfully for an air of casual charm, or accentuate your natural waves for an enchanting aura with curtain bangs.
#2 Butterfly Layers Haircut
This haircut is eventually a layers haircut in which longer layers are combined with the face-framing shorter hairs. The shorter layers on top give you a bit of volume and frame your face nicely. The layers below provide volume and motion to your hair, giving it appear voluminous and more dynamic. 
#3 Medium-Length Butterfly Haircut
In this style, the top layers of your medium-length hair are shaped to mimic the butterfly's wings, with a gentle curve that frames your face. It's versatile enough to be styled sleek and polished for a formal event, or you can opt for loose waves and texture for a more casual and carefree vibe.
#4 Butterfly Cut for Curly Hairs
Make your curly hair look better with flaunting butterfly wings! The butterfly cut for curly hair celebrates your curls by giving them a lively and eye-catching appearance. Whether you have loose waves or tight coils, this haircut works with the natural flow of your curls to create a mesmerizing and chic style. 
#5 Butterfly Haircut with Bangs
The butterfly layers and the bangs work together to frame your face and enhance your features, giving you a chic and fashionable look. This style suits those who don't like how butterfly cut elongates the face as you can add wispy or full bangs to flaunt better. 
Finding the Perfect Butterfly Layers Haircut for Your Face Shape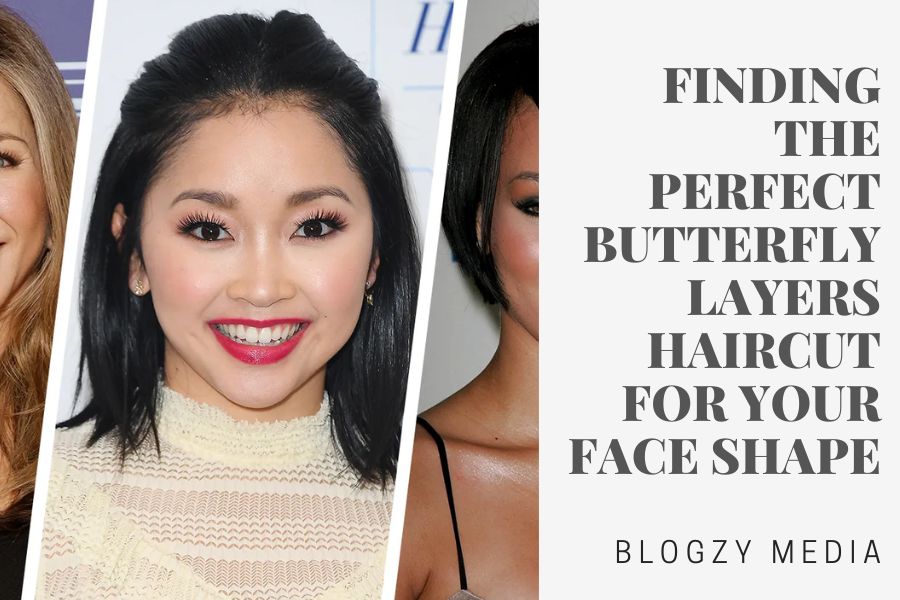 As mentioned earlier, this is quite a flexible hairstyle to suit various face shapes and can be molded into different styles. Let's learn how you can opt for a butterfly cut with different face shapes below!
Embrace your individuality by understanding the contours of your face and allowing them to guide your hairstyling journey. For those with a heart-shaped face, consider a butterfly cut that adds volume around the chin area, harmonizing your features.
If you possess an oval face, opt for a versatile butterfly style that frames your face, enhancing its balanced proportions. 
Square-faced individuals can embrace softer, layered butterfly haircuts to soften angles, while those with a round face can experiment with layered fringes that add dimension.
Lastly, individuals with a diamond face shape can beautifully accentuate their cheekbones with a butterfly cut that emphasizes their unique structure.
Preparing for the Butterfly Haircut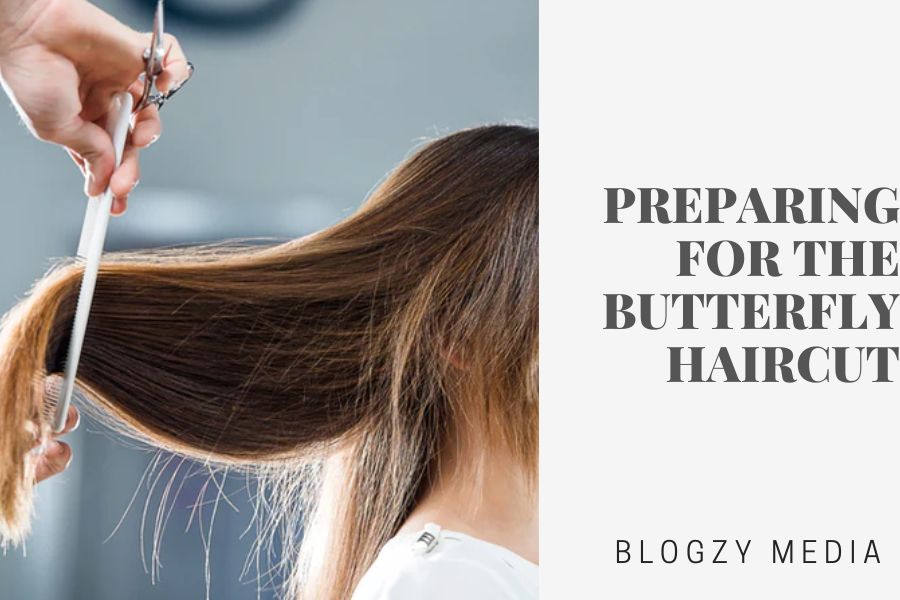 Embarking on the journey to embrace a captivating butterfly layers haircut requires thoughtful preparation to ensure a stunning and personalized result.
Step 1: Consult with a hairstylist
The first crucial step is consultation with a skilled hairstylist, where the magic of transformation begins. This invaluable session allows you to discuss your vision, share your inspirations, and delve into your lifestyle to determine a butterfly cut that seamlessly intertwines with your essence.
Step 2: Choose the right hairstylist
Seek out professionals with a flair for creativity and a proven track record in sculpting butterfly cuts. Research their portfolio, read reviews, and gauge their expertise to ensure they're the perfect match to bring your vision to life.
Step 3: Communicate your preferences
Clearly articulate your preferences – whether it's the length of the layers, the angle of the cut, or the texture you desire. 
Styling Tips for the Butterfly Haircut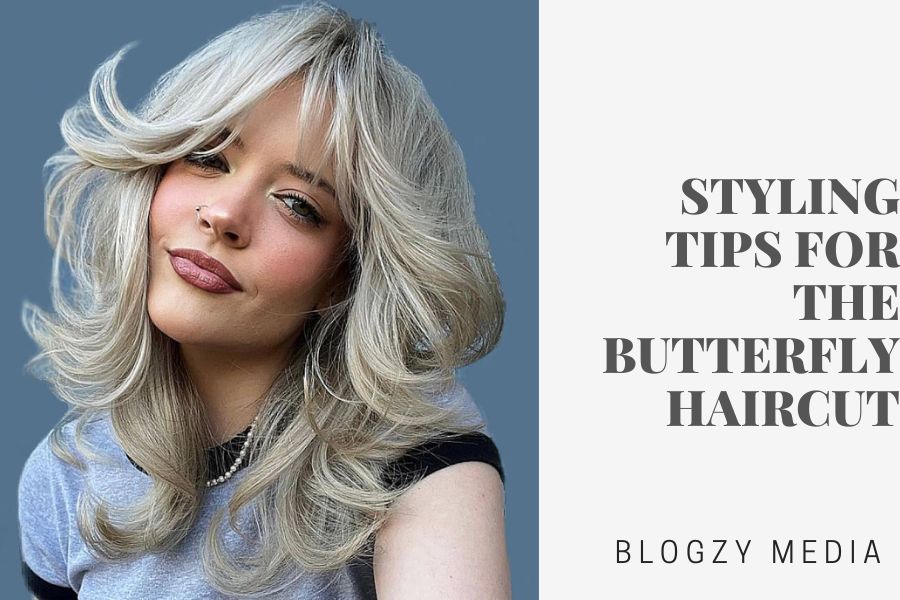 Blow-Drying Techniques
Begin by dividing your damp hair into manageable sections. Lift your roots with your fingers or a round brush while holding the blow dryer close to them.
To emphasize the layers of your butterfly cut, blow dry with a texturizing spray or mousse. Apply the product to damp hair before blow drying, and scrunch or tousle the hair as you dry for a beachy, dimensional effect.
Using Hair Rollers
You can use Velcro rollers to style your butterfly haircut. Using velcro rollers can add volume, lift, and bounce to your butterfly cut, enhancing its unique layers and contours.
Allow the rollers to set your hair for about 20-30 minutes. Dry faster with a blow dryer on a cool or low heat setting, applying air directly to the rollers.
Straightening and Curling
By straightening your curls post-butterfly cut, you're not just altering your look – you're igniting a captivating metamorphosis that harmonizes with your distinct persona. 
It's not just a style change; it's an invitation to explore the boundless facets of your allure, leaving a trail of awe-inspiring impressions wherever you go.
Advantages of the Butterfly Cut
Adds Volume
The layers in the butterfly haircut help to create the illusion of more volume, even on fine or thin hair. 
Versatile
Butterfly cuts are extremely versatile, and can be styled in numerous ways. The styles range from sleek and polished to tousled and undone.
Low-maintenance
The butterfly cut does not require a lot of styling, which is great for busy women. It'll still look great if you blow it or let it air dry.
Flattering
As the layers can help to frame the face and balance the appearance, the butterfly hairstyle is popular for a wide variety of face shapes.
Youthful
The butterfly haircut is a youthful and modern haircut that can help you look your best. It is a great option for women who want to update their looks without going too short.
Potential Drawbacks and Considerations
May be difficult to style
The layers in the butterfly cut can make it more difficult to style, especially if you have fine or thin hair. It may be necessary to use additional products or heat tools to achieve the style you desire.
Not ideal for people with curly hairs
The layers in the this haircut can make curly hair frizzy and unmanageable. Maybe you should choose another haircut if you have a this haircut. 
However, you can straighten your curly hair after a butterfly cut which looks pretty awesome.
Butterfly Haircut: Celebrities' Choice
Here are some examples of how the butterfly hairstyle is a popular choice for celebrities:
Jennifer Aniston has been a long-time fan of the butterfly layers haircut, and she has been seen sporting the style in many different variations over the years. She has also been known to add curtain bangs to her butterfly cut, which helps to frame her face and add a touch of glamour.
Salma Hayek is another celebrity who has been seen with a butterfly cut. She has a long, wavy hair texture which makes this haircut look even more voluminous and full.
Kaia Gerber is a young Hollywood star who is known for her edgy and fashion-forward style. She has been seen with a variety of different haircuts, but she has recently been sporting a butterfly cut with long layers and curtain bangs.
Butterfly Haircut Trend in 2023
We learned in 2023 that voluminous hairstyles will never go out of style. We should consider styling with a butterfly hairstyle if adding layers and movement to hair is our go-to method of flaunting. 
Let's look at some of the prevailing trends around this haircut below!
Face-framing layers with curtain bangs add perfect style to your face by further highlighting the defined look.

You can't overlook the compliments you get after having a butterfly cut on your golden blonde hair.

You can pair your butterfly cut with big waves to give it a cute outlook and further give your hair an extra lift and body.

Try spicing up your medium hair with the classy shoulder-length layered haircut that complements your natural look and appearance. 

haircuts with bangs or floaty layers give more movement to your hair and add the desired thickness to further boost its allure.
FAQs
Q.1 Can I get a butterfly haircut with curly hair?
Yes, you can get a butterfly cut on curly hair but it might not look as good as is on straight or regular hair. So, we'd like to suggest you straighten up your curly hair after this haircut. 
Q.2 Is the butterfly hairstyle suitable for all ages?
Yes, the butterfly cut can be suitable for all ages. There are a lot of styles you can do with this haircut, so it's great for women of all ages.
Q.3 How is the butterfly haircut different from other hairstyles?
This haircut is characterized by its layers, which are cut in a way that creates the illusion of volume and movement. The layers are typically cut from the chin down, and they can be of varying lengths.
Conclusions
So, there you have it! There are many ways to style the butterfly haircut, making it a versatile and flattering hairstyle. It is a great option for women of all ages and hair types, and it is sure to help you unlock your true stunning look in 2023.
If you are thinking about getting this hairstyle, we encourage you to consult with a hairstylist who can help you choose the right haircut for your individual needs and preferences. With a little bit of planning and styling, the butterfly cut can be a flattering and versatile option that you will love for years to come.
More Blogs