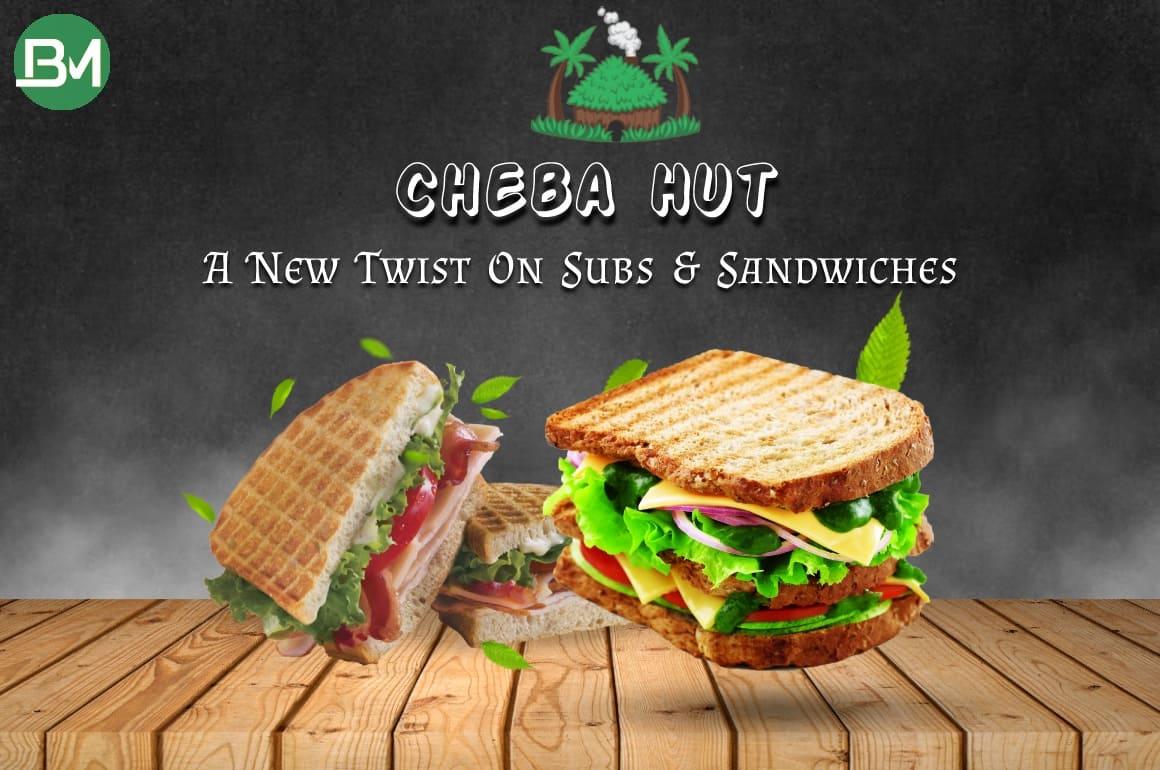 Cheba Hut: A New Twist On Subs & Sandwiches (2024 review)
Introduction
Cheba Hut Toasted Subs is a restaurant that specializes in cannabis-themed sandwiches. They offer a variety of sandwiches in a fast-casual setting and also operate as franchises, including QSRs (Quick Service Restaurants).
Scott Jennings founded this popular restaurant in 1998 in Tempe, Arizona.This famous restaurant chain has gained popularity due to its unique concept and appeal to a specific demographic.
Some of those factors include cannabis-themed concepts, targeting niche markets, quality food varieties, local community involvement, and franchise opportunities for expansion.
In this blog, you will find everything about cheba hut specializations and what makes them unique from other sandwich shops. Additionally, we will answer your most frequent questions on whether they offer vegan options, whether they are a sit-down restaurant or a fast-food chain, and more. So let's get right into this blog without wasting your precious time.
What Is Cheba Hut?
They known for its delicious toasted subs, playful and cannabis-inspired design & a relaxed atmosphere with an appreciation for the counterculture and a sense of humor.
Their menu features a variety of specialty sandwiches, known as toasted subs. These sandwiches have creative names that playfully reference marijuana strains, counterculture icons, and cannabis culture in general.
The sandwiches come with fresh, homegrown ingredients, including meats, cheeses, vegetables, and signature sauces. Customers can also customize their sandwiches to suit their preferences.
What Type Of Food Does Cheba Hut Specialize In?
Chicken & Turkey, Meat, Veggies, Munchies, Cotton Mouth Cures, Drinks, and Treats all fall under the umbrella of their menus. Their specialization? The reason is that they sell the most famous bread in the world!
Yes, they prepares sandwiches with proprietary Parisian bread. It is hand-scored, hand-rolled, and baked by a bakery that has been in business for 50+ years. Furthermore, they prepare three varieties of this bread: White, Whole Wheat, and Signature Garlic Herb. 
Hot, Vegetarian, Signature and Inner-Child are some of the adjectives they use to offer their delicious menu. Overall, they specializes in toasted subs, which are their main focus and signature item.
The sandwich options here are creatively named and often pay homage to cannabis culture, counterculture icons, and marijuana strains. Some examples of their sandwich offerings include the White Widow, Humboldt, and the Kush.
These sandwiches come with Various fillings, such as various types of meat (e.g, turkey, ham, roast beef, chicken), cheeses, and veggies, allowing customers to customize their orders based on their preferences. 
Does Cheba Hut Offer Vegetarian Or Vegan Options?
Yes, they do offer vegetarian or vegan options. Almost 80% of their menu is vegetarian. They offer veggie-filled sandwiches to hearty bowls of rice or beans that will satisfy your hunger. 
Check their veggies menu here where you get a lot of tasty options to enjoy, such as toasted cheese, hummus, peanut butter with jelly, and more. 
How Does Cheba Hut Incorporate Cannabis Culture Into Their Branding?
Its Vice President of Marketing Brian Loeb says that the restaurant chain is committed to serving food of epic quality and providing legendary service. This Colorado-based 25-unit brand has always been catering to the people who want to escape the established since 1998. 
Cannabis strains are included in their advertising strategy, even though they don't serve cannabis-infused foods. If you skim their website content and design, it's all based on the cannabis theme. 
They have named sandwiches as per this theme, such as Panama Red, which is a grilled chicken breast topped with marinara sauce. All in all, they do everything in their own way and even encourage the franchises to do the same.
It's important to note that Cheba Hut does not sell or promote cannabis products themselves. Instead, they celebrate the culture and embrace the cannabis lifestyle through their branding and overall restaurant experience.
They actively engage with the Cannabis community by participating in events, sponsorships, and collaborations that align with the cannabis culture. They may support local cannabis-related organizations, participate in cannabis-themed festivals, or collaborate with other brands associated with the industry. 
What Makes Cheba Hut Stand Out From Other Sub Places?
First, their unique cannabis-inspired themes set it apart from traditional sandwich shops. Their sandwich chain caters to a specific niche by incorporating elements associated with cannabis into their branding and ambiance, unlike other sandwich chains that focus on generic branding.
What further sets them apart is their playful and creative naming of menu items, which often references cannabis strains, slang, and counterculture themes. This adds an element of fun and uniqueness to their offerings.
Their restaurants are designed to provide a laid-back and relaxed atmosphere, The interior decor, including murals, artwork, and music choices, contribute to creating a comfortable space for customers.
They understands the importance of local culture and strives to incorporate it into its franchise restaurants. While the core cannabis-themed branding remains consistent across locations, they also recognize the significance of embracing and reflecting the unique aspects of each local community.
Cheba Hut Menu
#1 Chicken & Turkey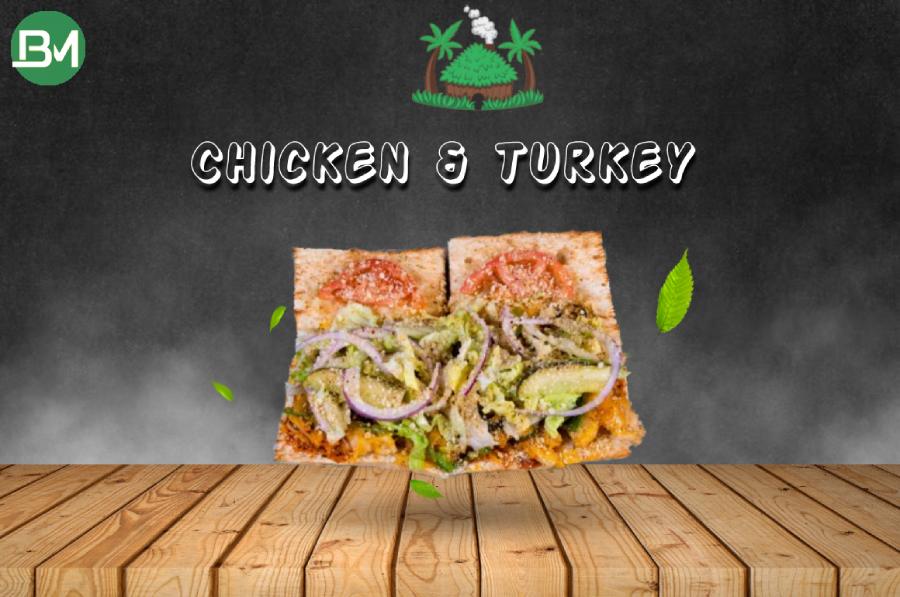 Thai Stick
It features grilled chicken breast marinated in teriyaki sauce, creating a flavorful and savory taste. The sandwich is then topped with green bell pepper, pineapple, and pepper jack cheese, adding a touch of sweetness and spice. It is drizzled with a house dressing to enhance the flavor, adding a creamy and tangy element. 
Acapulco Gold
Cheba hut's BBQ chicken sandwich features grilled chicken breast coated in tangy BBQ sauce, giving it a delicious smoky flavor. The sandwich is complemented with fresh lettuce, melted Swiss cheese, sliced onions, and juicy tomato. It is garnished with pickles for added taste and texture.
White Widow
With its enticing combination of ingredients, the White Widow is a popular choice for those seeking a satisfying and flavorful sandwich at Cheba Hut. It is prepared with grilled chicken breast cooked to perfection, creating a juicy and tender base. It is further enhanced with crispy bacon and savory mushrooms, adding a rich and smoky taste. Then, a hint of tanginess is achieved with the inclusion of pickles and onions.
#2 Meat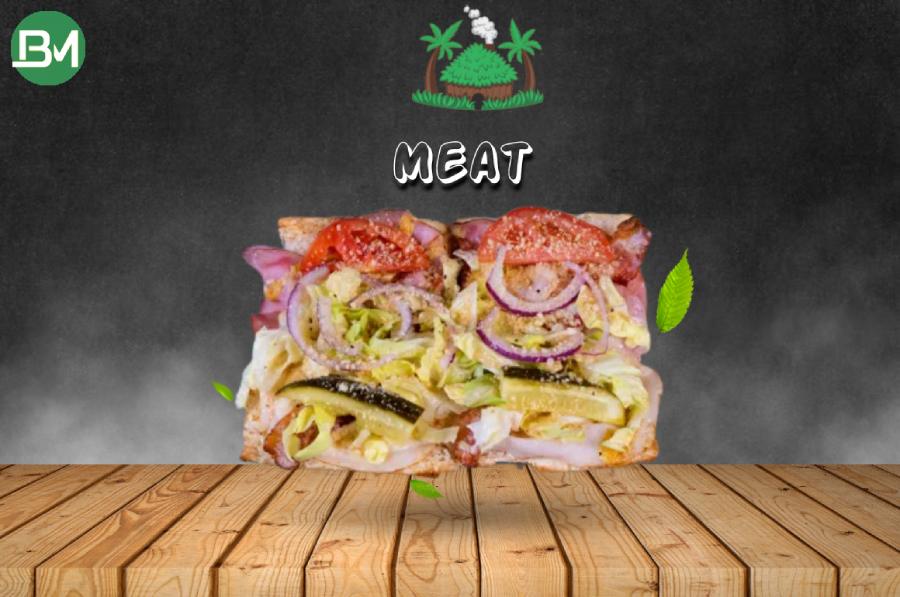 Pacific Blue
Also known as the Tuna Melt, the Pacific Blue sandwich features handcrafted tuna salad as the star ingredient, made with a flavorful blend of tuna, mayo, and other seasonings. The sandwich is then layered with melted cheddar cheese, which adds a creamy texture. It's further enhanced with lettuce, fresh onion, tomato, housing dressing, pickle, and shake. 
Pakalolo
Pakalolo is another mouth-watering sandwich by Cheba Hut, prepared with smoky flavors and tanginess and sweetness. The sandwich is prepared with succulent smoked ham as the primary meat, providing a rich and savory taste. It is topped with ranch dressing to add a cooling element. Then, the addition of juicy pineapple can't be overlooked as it's the most delicious one. 
#3 Veggies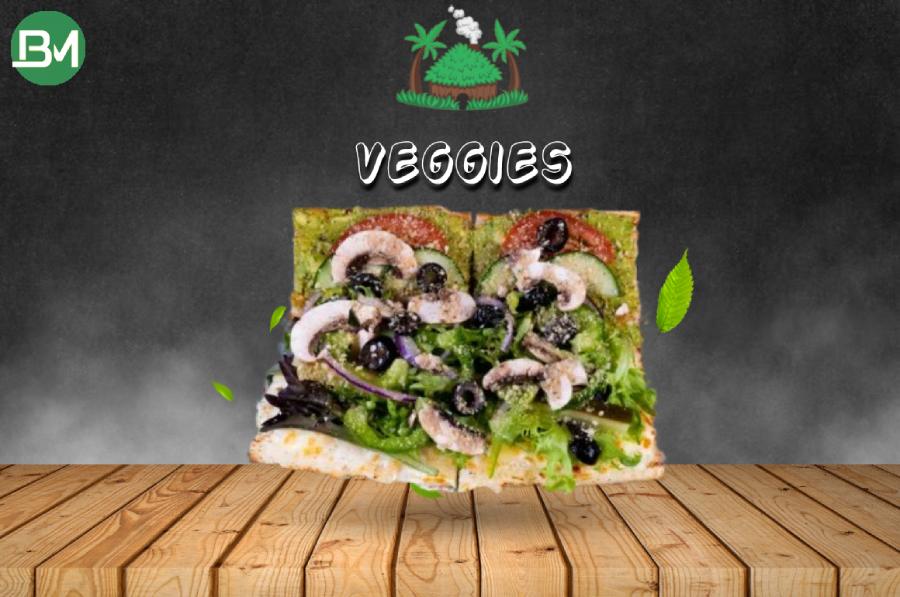 Sticky Icky
This sandwich is prepared with just two simple ingredients i.e. PB & J (Peanut Butter & Jelly). First, a generous spread of creamy peanut butter is slathered onto the bread, providing a rich and nutty flavor. Then, a layer of sweet and fruity jelly is added on top of the peanut butter. 
Magic Mushroom
Cheba Hut's Magic Mushroom known as Teriyaki Shrooms due to its main ingredient, portobello mushrooms marinated in teriyaki sauce. These savory mushrooms are complemented by the sweetness of pineapple and the crunch of green bell peppers. Additional ingredients such as onion, tomato, pickle, black olive, and cucumber add extra layers of flavor and texture. 
Chiesel
Using cheddar and provolone cheeses, this unique cheese blend produces a flavorful and gooey texture.Garlic butter generously coats the sandwich, adding a savory and aromatic touch. A sprinkle of seasonings enhances the taste even further. To achieve a creamy and smooth texture, include a layer of cream cheese.
#4 Munchies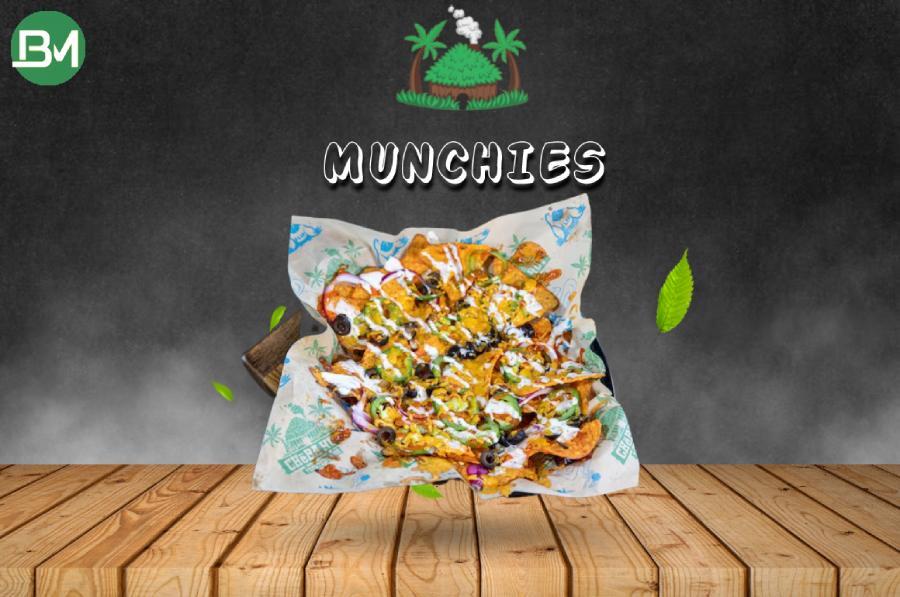 French Onion Soup
The French Onion Soup, featured on the Munchies menu at Cheba Hut, offers a comforting and flavorful experience. This classic soup is famous for its rich and savory broth, caramelized onions, and melted cheese topping. The soup base is typically made from slow-cooked onions, which develop a deep and sweet flavor. Then, we season it with herbs and spices to enhance the taste profile.
Loaded Not'chos
This dish starts with a bed of nacho cheese Doritos, which provides a crunchy and flavorful base. Melted cheddar cheese is generously layered on top, creating a gooey and cheesy texture. We scatter jalapeños, onions, and black olives across the dish to add heat and flavor. A drizzle of hot sauce further enhances the spicy profile. 
Cheba Hut Alternatives
#1. Beach Hut Deli
Beach Hut Deli is a popular sandwich shop famous for its beach-themed atmosphere and delicious sandwiches. With locations in various coastal regions, Beach Hut Deli aims to provide customers with a casual and relaxed dining experience. 
They offer an extensive menu featuring a wide range of sandwiches made with high-quality ingredients, such as freshly baked bread, premium meats, cheeses, and flavorful toppings. 
#2. Mr. Submarine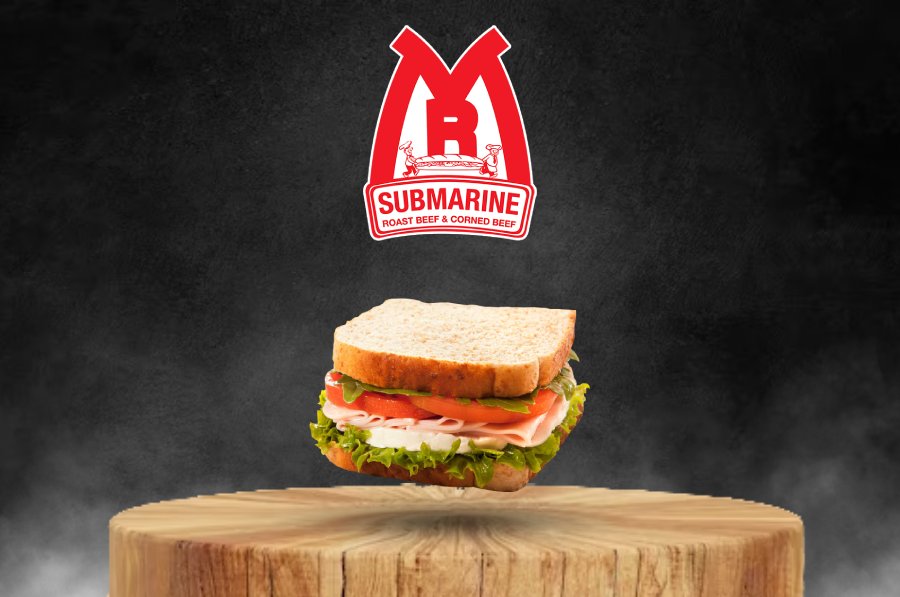 Mr. Submarine (previously known as Mr. Sub) is a restaurant chain founded in Canada in 1968. The main products of Mr. Submarine include the signature submarine sandwich (or, sub). It is a long-rolled sandwich that comes with cheese, meat, vegetables, and sauces.
Whether you're in the mood for a classic Italian sub or a customized creation, Mr. Submarine aims to satisfy your sandwich cravings with its tasty offerings. By the way Mr. Submarine is a great alternative to Cheba Hut.
#3. Sweet Hut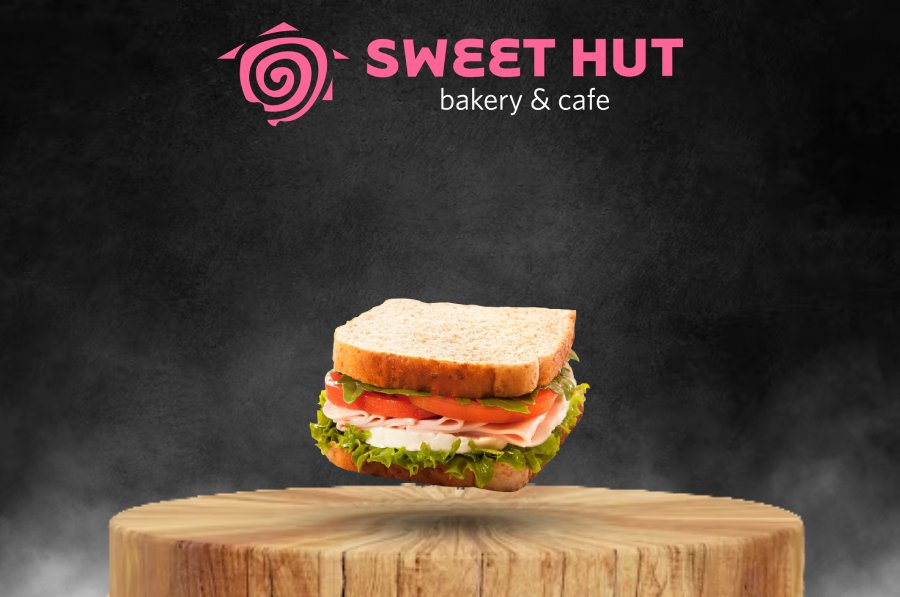 Cherish sweet surprises and sweet moments with the Sweet Hut! They have an in-house dessert chef from Hong Kong who has almost 20 years of experience in the industry. It's a restaurant specializing in desserts whose menu looks like Beverages, Bowl Rice, Cake & Pastry, Nasi Lemak, Noodles, and so on. 
Conclusions
So, that was all you need to know about Cheba Hut which offers a new twist on subs and sandwiches. Well, we have explained to you everything about the restaurant, and its menu offerings, and your mostly asked queries on whether they offer vegan options, whether you can order online, etc. Make sure you skim each section so as not to miss anything related to Cheba!
FAQs
Q.1 Can I customize my sandwich at Cheba Hut?
Yes, They offers customization options for its sandwiches. Customers can choose their bread type (white sub roll or wheat sub roll) and select their preferred toppings, condiments, and cheeses. Moreover, they offer the facility to offer two random items on the menu as per the preferences of local people.
Q.2 Are there gluten-free options available at Cheba Hut?

Although They does not have a dedicated gluten-free menu, you can modify some of its sandwiches to be gluten-free. Customers can opt for a lettuce wrap instead of the bread or inquire about gluten-free bread options available at their specific location.
Q.3 Can I order online for pickup or delivery from This Restaurant?
Yes, they offers online ordering for both pickup and delivery services. Customers can visit the official website or use third-party delivery platforms to place their orders conveniently. We recommend checking the availability of online ordering and delivery services at the desired location.
Q.4 Does Cheba Hut have any loyalty or rewards program for frequent customers?
Definitely, They allows you to earn rewards points that you can easily redeem for further transactions via the app. You can earn points or reward credits by following one of the three options given below.
You need to check in during the interaction with the crew member at the register. You can simply ask them to pull up your account or directly scan your QR code from the app.

Follow this method if you forgot to do the process mentioned above. Simply enter the barcode number or scan your receipt barcode into the app after the transaction.

The last way to earn points is by placing an order via the app, either for pickup or delivery.
Check this page for more info.
Q.5 Does Cheba Hut offer catering services for events or parties?
It's recommended to contact the specific location for more information on their catering offerings. As they said, drop them a dime below if you want anything else.
More Blogs From Blogzy Media